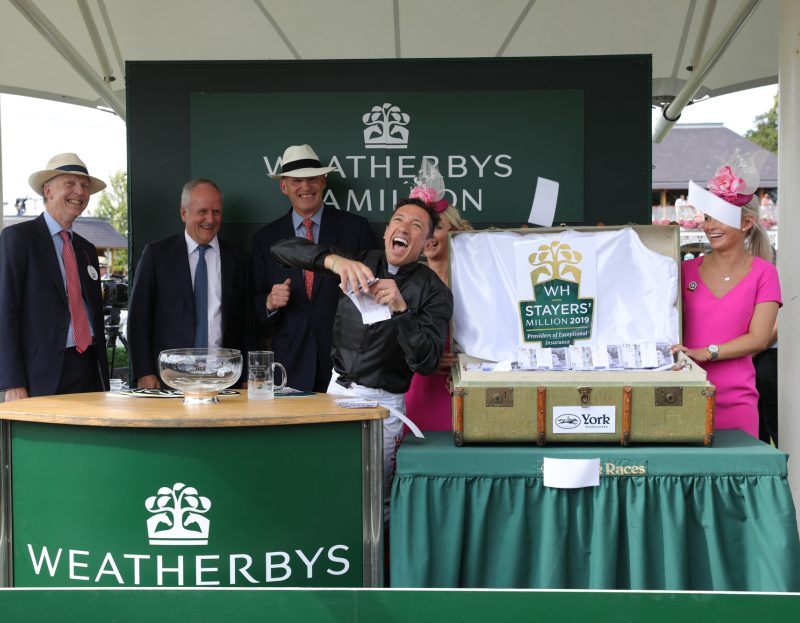 The Weatherbys Hamilton Stayers' Multi-Millionaire!
Friday 23rd August at York was another wonderful day with the running of the Weatherbys Hamilton Lonsdale Cup and with it the final event of the 2019 Weatherbys Hamilton Stayers' Million
Stradivarius was imperious in winning the Lonsdale Cup again and in doing so scooped his second Million. Quite apart from that, this was his 9th win in a row, which is a phenomenal feat for a Stayer. He has a career total of 13 wins from 18 races, clocking up no less than 33 miles in five years of competitive racing and he hasn't finished yet. If you add in his two Stayers' Millions he has won £4.4m so far for his owner Bjorn Nielsen, not bad for a yearling which was led out unsold at Tattersalls in 2015 because he did not meet his reserve. Needless to say he owes much to the combined brilliance of his trainer John Gosden and jockey Frankie Dettori.
The aim of the Weatherbys Hamilton Stayers' Million when we launched it in 2018 was to reinvigorate interest in the Stayers and emphasise just how much racing needs them if its colour and diversity is to be maintained. Stradivarius has proved the perfect poster boy for these magnificent horses and he now deserves to be mentioned in the same breath as any of the great Stayers of the past. He has become one of the most popular horses in training and we are extremely proud to be associated with his exploits.
Back to News