by Graham Dench
Aug 12, 2021 | News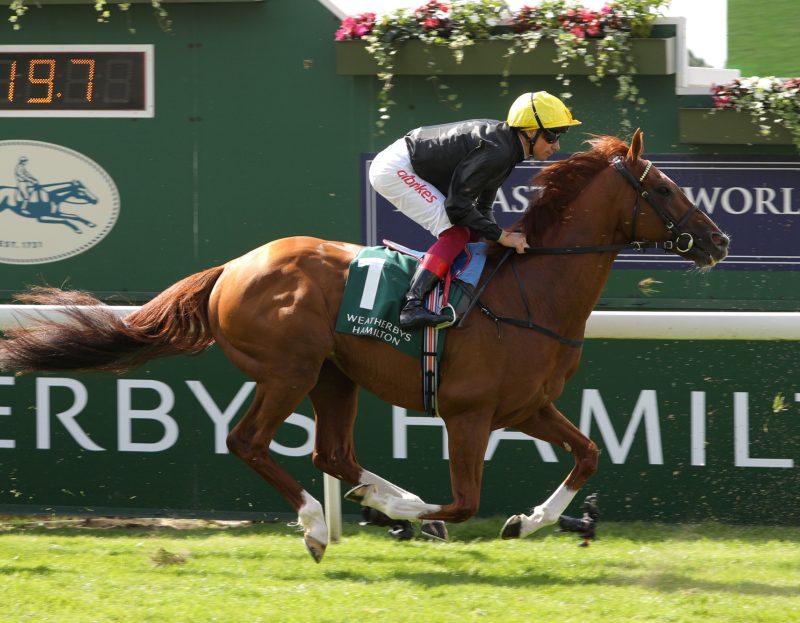 Stradivarius to prove that there's many a good tune played on an old fiddle
Stradivarius will have a point to prove when he bids for a record third win in the Weatherbys Hamilton Lonsdale Cup at York next week, but owner Bjorn Nielsen is confident he will be hard to beat this time.
As a seven-year-old entire Stradivarius is surely now in the twilight of his remarkable career, and following four defeats in his last five starts he no longer wears that air of invincibility quite so proudly. But while talks are ongoing with several breeding operations, he's not done with yet.
The Gold Cup fourth behind Subjectivist is easily explained, owing to the tactics employed, and there were mitigating factors for all of the other defeats, two of which were thoroughly honourable efforts in any case when connections were trying to prove him over a mile and a half.
Stradivarius is unbeaten in four races at York, and while the Weatherbys Hamilton Stayers' Million which he plundered in both 2018 and 2019 has been discontinued Nielsen is still very upbeat about next Friday's race.
He said: "The bonus no longer being there makes the Lonsdale slightly different this year, but in my mind I don't think it's a question of other horses beating him. He's seven now, but as long as he's still got it he's going to win.
"York is the one place we've always had the good, or good to firm, ground Stradivarius prefers and he's never been beaten there. The day he's beaten when he has his conditions then that will probably be it, but from what I hear he's still full of it. Frankie (Dettori) and John (Gosden) have both told me how well he's working, so I hope it lasts a few more races."
Nielsen remembers that Alain du Royer Dupre, who at the time trained the great stayer Vazirabad, said when the Weatherbys Hamilton Stayers' Million was introduced that it would be impossible to win, so it was not at the forefront of plans at the start of either year in which it was won.
He said: "The big race to win was always the Gold Cup, and to start with we were just happy to win the Yorkshire Cup. It was only once he'd won at Ascot too that we could start to think about Goodwood and then the Lonsdale, because it was 'on' then and he had probably beaten most of the horses he was going to meet. But even if he was going to have to run below his best to get beaten, he still had to get to those last two races.
"The easiest leg on paper was always the Lonsdale, but in many ways it was the hardest, as it came only three weeks after the Goodwood Cup, which is tight timing for a stayer, and he had the Group 1 penalty to carry. It was particularly hard work that first year."
Stradivarius faced a new rival in 2019 in Dee Ex Bee, but otherwise it was a case largely of meeting stayers he had already beaten. Mark Johnston never stopped trying with his former Derby second, but Stradivarius was more than equal to the task. Even so, Nielsen knows how fortunate he was to win the Million twice and he acknowledges that it wouldn't have been feasible in either year since, had it still been on offer.
He said: "It's not just a case of having the best horse - that horse has to stay fit and turn up 110% time after time on pre-determined dates for two years. That's the hard bit, and just look what happened last year, when we had COVID disrupting the season, and then this year, when the weather was such a factor at Goodwood.
"We'd have loved to have gone for that fifth Goodwood Cup and in previous years we might have run him, as it was heavy summer going and not the holding ground he had in the Arc or on Champions Day, but at this stage of his career we just don't want to do it."
He added: "He's still got that enthusiasm, and we don't want to spoil it. As long as he's got it he'll perform, but as soon as it's gone then his time is up, so why ask him to do things he doesn't enjoy.
"His strength as a stayer has always been that great turn of foot, and soft ground just takes it away. The other great thing about him - and key to his longevity - is that he only does as much as he needs to. As Mick Kinane once said to me, he just goes through the motions, like his father Sea The Stars, and it's because he's usually using only 90% of his capacity that he can keep coming back."
Nobody is saying yet that this is Stradivarius' last season but it might be, hence the ongoing discussions on his longer term future.
Nielsen said: "There is interest from two or three studs in England, and foreign interest as well, and when his time comes he can hopefully pass his qualities as a racehorse. I'd obviously prefer him to stay here, but the key thing is that I want him to have the best chance possible to cover Flat mares. I don't want him going straight down the jumps' stallion route, as a lot of mile-and-a-half plus horses have done in recent years."
A new career beckons before too long then, but in the meantime Nielsen is hoping that his usual lunch with the sponsors next Friday will be followed by another tour de force in the afternoon from the great stayer, whose earnings from 17 wins, including the bonuses, now stand at just a round or two of drinks short of £5m - an unthinkable reward for a Cup horse.
He said: "Without the bonus I suspect we wouldn't be running in the Lonsdale if he'd run at Goodwood, because of the timing, but I'm delighted that we are. Weatherbys Hamilton did so much for stayers when coming up with the Million, and I'm very happy to be supporting them.
"They even insure my horses now, and they were very competitive. It's a good lunch too, and I'm not one to change a winning formula."
Back to News