by Graham Dench
Aug 19, 2020 | News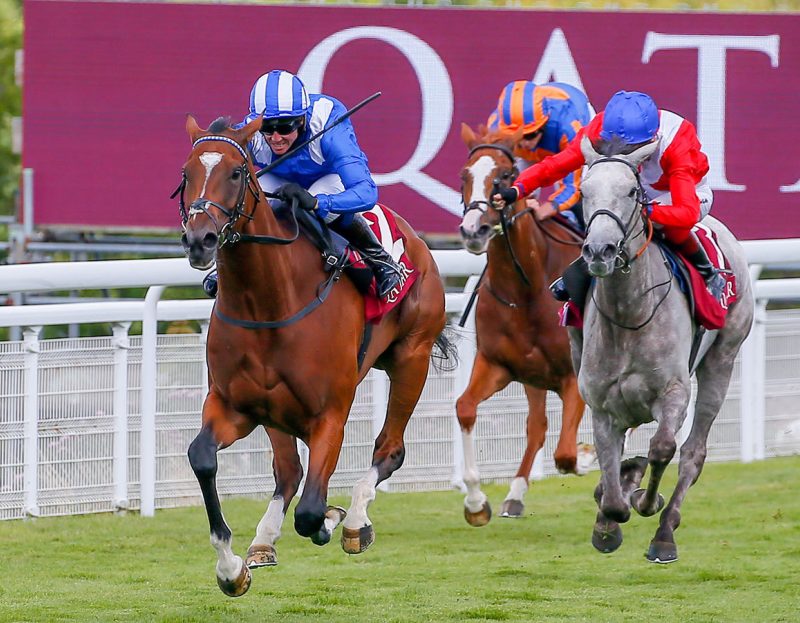 Racing richer for the Stayers
Stradivarius has different priorities now and so York on Friday won't be quite the same...
but John Gosden will once again underline his commitment to the staying division by saddling the likely favourite for the Weatherbys Hamilton Lonsdale Cup when Enbihaar (pictured) steps up to two miles for the first time.
Along with Mark Johnston, who runs Enbihaar's main market rival Nayef Road, Gosden is the staunchest of advocates for the staying horse, and his belief in the principles behind the launching of the Weatherbys Hamilton Stayers' Million in 2018 remain as strong as ever.
He said: "I think it was a superb initiative by Weatherbys Hamilton. The staying division had been neglected for ten or fifteen years but the racing public really enjoy the Cup races and they run deep in the tapestry of our programme here, just as they do in France, where they have historic long-distance races like the Prix du Cadran and the Kergorlay.
"It was a serious mistake for us to neglect them. We've seen what has happened in America, where the emphasis is heavily upon one-dimensional speed racing and a mile and a half was referred to at the Breeders' Cup as a marathon. Also in Australia, where they have fantastic sprinters and milers but are weak at a mile and a quarter and beyond.
"We don't want to see racing here go the wrong way and the dilemma we face is that the moment a horse wins the Derby people turn it back to try and win the Eclipse and prove that it's not a mile and a half horse. My viewpoint is that if you take away that whole dimension British racing will be a lot more anaemic and all the poorer."
In 2018 Stradivarius arrived at York bidding to complete a clean sweep of Cup victories by adding the Weatherbys Hamilton Lonsdale Cup to his earlier wins in the Yorkshire Cup, the Gold Cup at Royal Ascot and the Goodwood Cup, thus securing at the first attempt the £1m bonus that most considered almost impossible to achieve when it was launched that spring. He duly landed odds of 4-11 and for good measure went on to add the Long Distance Cup on Qipco British Champions' Day to end the season unbeaten.
There was more of the same for Stradivarius in 2019 when he confirmed himself one of the great stayers of modern times by landing another £1m bonus with an identical four-timer before adding a first Doncaster Cup to a cv that was growing fast and remained practically blemish free.
This year a third win in the Gold Cup and a record fourth in the Goodwood Cup have enhanced a truly remarkable record, and if the bonus had been on offer again Gosden admits Stradivarius might well have stuck to what he demonstrably does best of all, but circumstances have changed and the six-year-old's bold bid for middle-distance glory in the Arc will be welcomed by all who enjoy seeing a champion extend his repertoire.
Meanwhile the bonus has done its work, and Gosden's gratitude for its introduction is not governed solely by the riches it has brought to those closest to Clarehaven's great character.
Gosden believes the bonus has provided a major shot in the arm for a division which has a history as rich as any in racing, but one that was falling sadly out of fashion. He said: "Winning the bonus was one hell of a challenge. Whether it was good for Weatherbys Hamilton only they can know, but I'm inclined to think it was. It raised their profile, and Stradivarius is a horse who is now followed by the general public.
"I think it's done a fantastic job in raising the profile of the staying and Cup races and in that respect too it achieved its purpose. It's been simply fantastic for the owner, the breeder, the jockey, the stable and of course the horse to take in all of those races and to battle through them.
"To have a horse like Stradivarius is to us a combination of a huge thrill, pleasure and honour. He is such a character and he would probably have done it again this year if staging the bonus had been feasible."
Enbihaar is no Stradivarius, but she has compiled an impressive cv of her own since she was beaten at Chelmsford when making a belated racecourse debut late on as a three-year-old. The following year she won a Listed event and three Group 2 fillies' races, giving her owner Sheikh Hamdan Al Maktoum so much pleasure that he chose to break with his own conventions and persevere with her on the racecourse as a five-year-old.
That decision has already been rewarded with a fourth Group 2 win, courtesy of a second success in Goodwood's Qatar Lillie Langtry Stakes, and when she lines up on Friday she will have a favourite's chance of launching a memorable Group-race treble for her owner and for her jockey Jim Crowley, who later combine again with brilliant sprinter Battaash in the Nunthorpe Stakes and Minzaal in the Gimcrack.
Win or lose, Gosden has by no means given up hope of Group 1 success with Enbihaar, although opportunities are limited. He said: "I suppose it was a big call keeping Enbihaar in training as a five-year-old, but she only just missed out on a Group 1 last year on Arc weekend in the Prix Royallieu [close third to her stable-companion Anapurna]. She's a big powerful filly who enjoys her training, and her owner enjoys seeing her racing.
"She's already won a second Lillie Langtry and now we are trying something a bit different by running her in a new division. Jim got off her the other day and said that the extra two furlongs wouldn't be a problem.
"It's a nice Lonsdale and there are some solid horses in there against her, like Nayef Road, who we know all about through Stradivarius, but she ought to have a good chance."
As for Stradivarius, Gosden confirms that he continues to please in his Arc preparation and that he remains on course for a preliminary reconnaissance trip to Longchamp next month, regulations permitting.
He said: "Stradivarius has a different priority now and he's in great form. It's always been the dream of Bjorn Nielsen to have a great Cup horse who can compete in the Arc, as Ardross did. We'll see what happens with all of the restrictions on movement, but he's heading first towards the Prix Foy and I couldn't be happier with him."
Older racing fans will need little reminding that dual Gold Cup winner Ardross was beaten just a head by Akiyda in the 1982 Arc when making his final racecourse appearance as a six-year-old, having been an honourable fifth of 24 behind Gold River from the widest of draws a year earlier.
In what is shaping up to be an epic Arc, Stradivarius faces two females even more formidable than Akiyda in Love and his own stable-mate Enable, who will be bidding for an unprecedented third win in the race.
Loyalties will be divided both within the Gosden camp and outside of it, but true devotees of Cup racing will no doubt be rooting for Stradivarius. It's asking a lot, but it's not impossible.
Back to News